Strong Finish To Matching Gift Campaign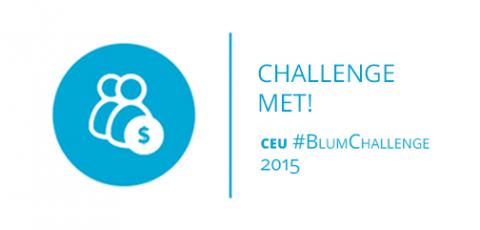 What a bunch of overachievers!
That's one way to describe CEU's amazing alumni donors, who just raised more than $60,000 in support of their University via the Blum Matching Gift Challenge. Launched last autumn, the campaign's original goal was $50,000. (See? Overachievers.)
Alumni made more than 140 individual contributions to the campaign, which closed last week, raising a total of $60,148.
The campaign sparked a competition between alumni of CEU's various schools and departments to see who the University's top supporters are.The top five active departments were International Relations, Political Science, Legal Studies, Economics and Environmental Sciences. Top five generous groups were Legal Studies, International Relations, Political Science, School of Public Policy and Economics. (See full stats below.)
This is just one more example of how CEU has the best alumni in the world. Thanks so much to all our donors!