2017 Class Gift Rallies, Closes Strong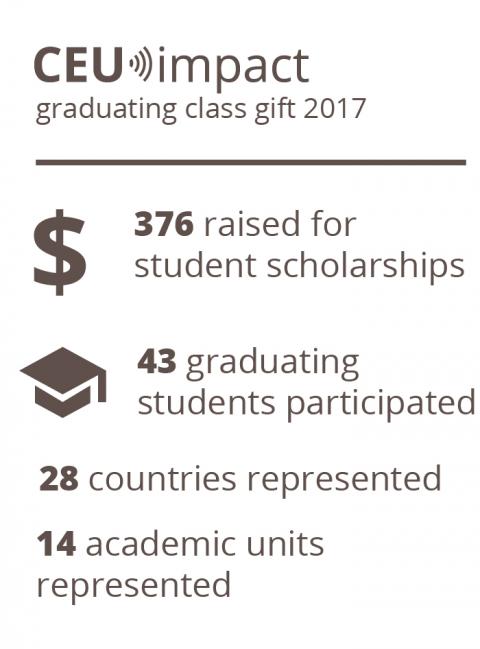 At the close of this academic year, members of the Class of 2017 came together to make their mark by aiding those who will follow in their footsteps.
More than 40 graduates raised almost $400 in support of future CEU students via the Graduating Class Gift 2017 campaign.
The two-week campaign enabled grads to make their first, symbolic donation in support of CEU's future, both as a means of giving back and 'paying it forward' to next year's class.
It also allowed donors to represent their academic units, with the participation ranked accordingly. Students from the Nationalism Studies Department took first place, followed by School of Public Policy and International Relations, respectively.
The campaign got off to a slow start, launched as it was at the tail end of a hectic academic year. However, contributions spiked in the excitement of the final week, with many contributions made in person at the Alumni Information table during pre-graduation.
Following the success of a similar campaign by SPP last year, the campaign encouraged donors to make small, symbolic contributions CEU's generation fund, to cover things like meals and transportation passes for next year's students.
Thanks to everyone for paying it back – and forward!